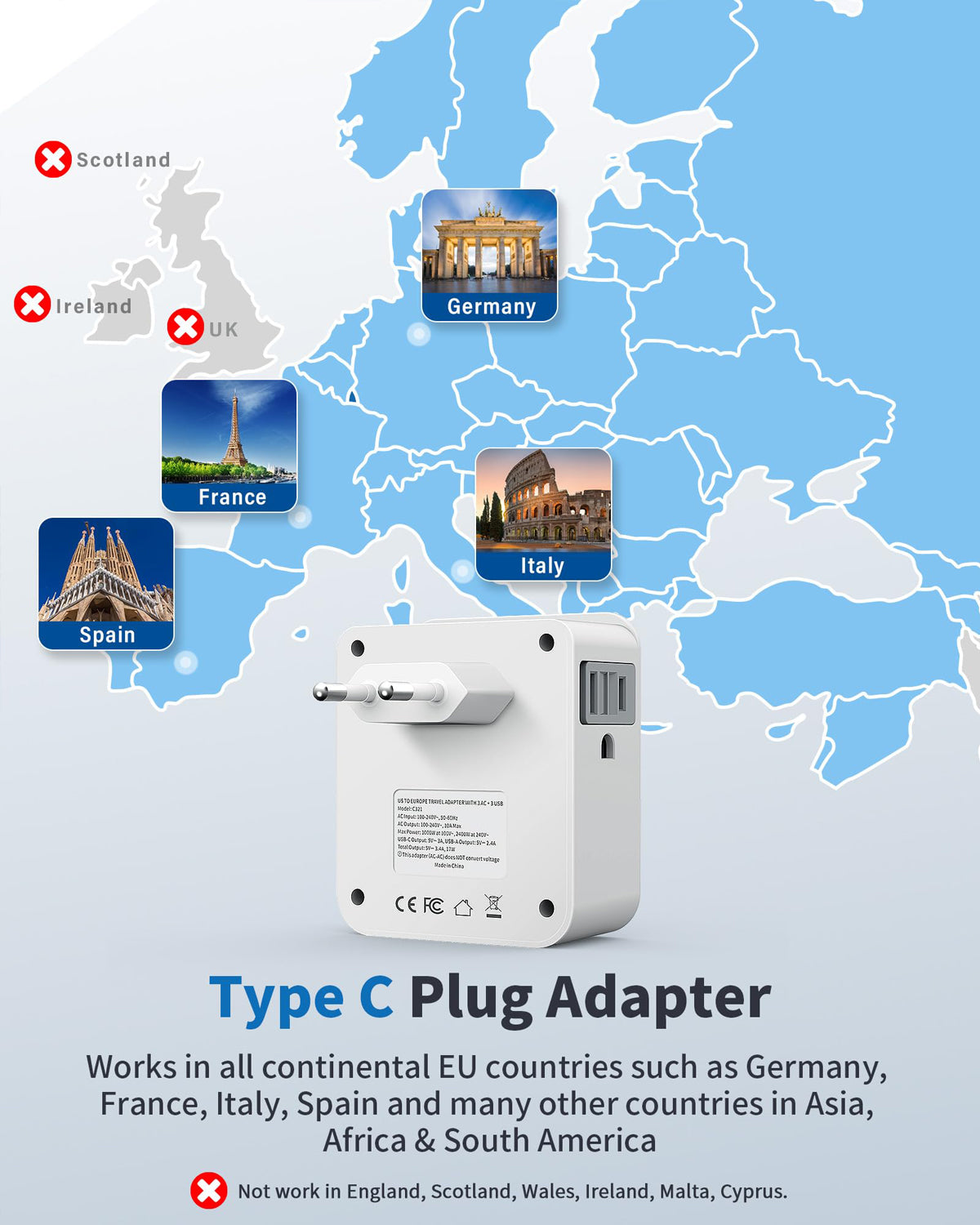 C321 Type C Travel Adapter
---
6 In 1 Type C Travel adapter: C321 Features 3 AC outlets, 2 USB-A & 1 USB-C charging ports. It can plug into all Type C family sockets, including Type C, E, F, H, J, K, L, N, O, although they might look different due to different grounding mechanisms.
3 Standard US AC Socket: Accept US plug from countries such as Canada, Mexico, Japan, etc.
Safety & Security: This European power adapter is ideal for travelers, overseas business, work, and students. It does not have surge protection and can be conveniently used on a cruise ship as well. Built-in safety doors, RoHS, CE, and FCC certifications, and our 2-year limited warranty provide extra peace of mind.
Note:
Our adapter does NOT convert voltage (US/Canada voltage is 110-120V and most other countries are 220-230V), you must make sure that the AC-powered device you intend to use abroad supports dual voltage (most laptops and wall chargers do, and the input spec reads "100-240V, 50/60Hz" on your device).
AC Input: 100-240V~, 50-60Hz
AC Output: 100-240V~, 10A Max
USB-C Output: 5V⎓ 3A
USB-A Output: 5V⎓ 2.4A
Total DC Output: 5V⎓ 3.4A, 17W
Max Power: 1000W at 100V~, 2400W at 240V~
Packing List:
1* C321 Travel Adapter
1* Carry Bag
1* User Manual
Shipping, Returns & Warranty

Shipment
All orders are processed within 1-2 business days. For free shipping, by default, we use USPS First Class, Priority, or UPS ground, depending on package weight and destination. Once shipped, it normally takes 1-5 business days to deliver. If expedited shipping service is needed, please contact us to see our options.

Returns & Refund Policy
30-day hassle-free return, 90-day free exchange.

Warranty
2-year limited warranty

For more details about our shipping, return and warranty info, please click here.
https://www.epickatech.com/pages/support
Plug Format
Type C, E, F, H, J, K, L, N, O
NOT A VOLTAGE CONVERTER
Our adapter does NOT convert voltage, you must make sure
that the AC-powered device you intend to use abroad supports
dual voltage (with "100-240V, 50/60Hz" printed on it).
Need Check: Hair tools, electric shavers and toothbrushes, etc.
Not Allowed: Any device with "120V,60Hz" or "household use only"
printed; Any hair dryer or steamer over 2000W.
Works in 150+ Countries & Regions
Type C Plug Adapter
Afghanistan, Albania, Algeria, Andorra, Armenia, Austria, Azerbaijan, Belarus, Belgium, Bosnia & Herzegovina, Bulgaria, Brazil, Croatia, Denmark, Egypt, Estonia, Finland, France, Germany, Greece, Hungary, Iceland, Indonesia, Italy, Lithuania, Luxembourg, Morocco, Norway, Netherlands, Poland, Portugal, Romania, Russia, Serbia, Spain, South Korea, Sweden, Switzerland, Turkey, Ukraine, Uruguay and more.
NOTE: NOT work in England/Scotland/Wales/Ireland/Cyprus/Malta.
This product has no reviews yet.