TA-105C Universal Travel Adapter
---
Supports 8A fuses only.
Global Compatibility: All in one adapter includes 4 different plugs that adapt to over 200+ countries & regions.

Versatile Charging: Say goodbye to tangled cords and limited outlets. Our adapter allows you to charge up to 6 devices at once.
2023 New Release: Future-proof with 3 USB-C ports.
Safety & Security: This travel adapter is equipped with built-in 8A fuse, safety shutters and plug lock system. In addition, it is certified by RoHS, CE, and FCC, ensuring its safety and reliability.

Note:
Our adapter does NOT convert voltage, you must make sure that the AC-powered device you intend to use abroad supports dual voltage (with"100-240V, 50/60Hz" specs printed on it).
AC Input: 100-240V~, 50-60Hz
AC Output: 100-240V~, 8A Max
Max Power: 880W at 110V~, 1920W at 240V~
USB-A Output: 5V⎓ 2.4A
USB-C Output: 5V⎓ 3A
Total DC Output: 5V⎓ 6A, 30W
Product Weight: 5.1 oz
Color: Black
Product Dimension: 2.8*1.97*2.05 inches
Packing List:
1* TA-105C Travel Adapter  
1* Carry Bag
2* Extra Spare 8A Fuses in A Pouch  
1* User Manual
Shipping, Returns & Warranty

Shipment
All orders are processed within 1-2 business days. For free shipping, by default, we use USPS First Class, Priority, or UPS ground, depending on package weight and destination. Once shipped, it normally takes 1-5 business days to deliver. If expedited shipping service is needed, please contact us to see our options.

Returns & Refund Policy
30-day hassle-free return, 90-day free exchange.

Warranty
2-year limited warranty

For more details about our shipping, return and warranty info, please click here.
https://www.epickatech.com/pages/support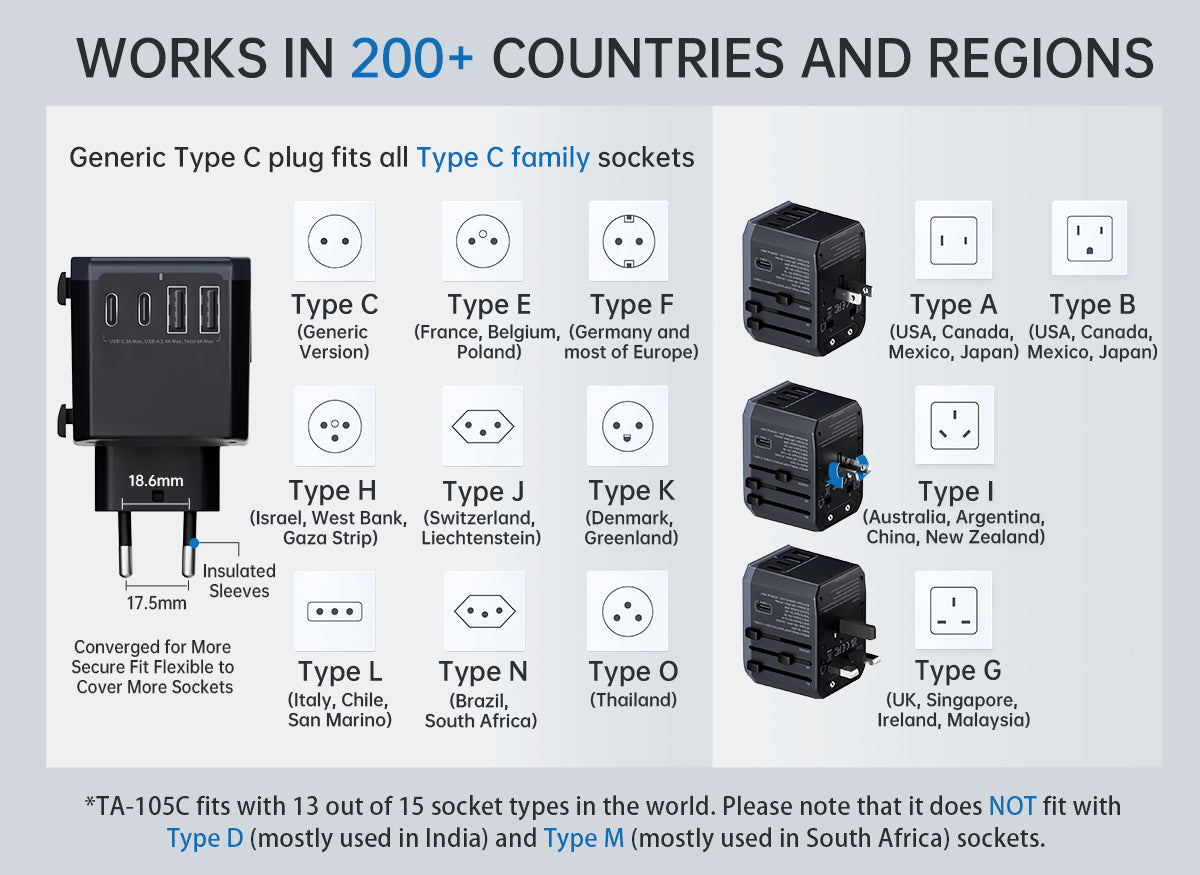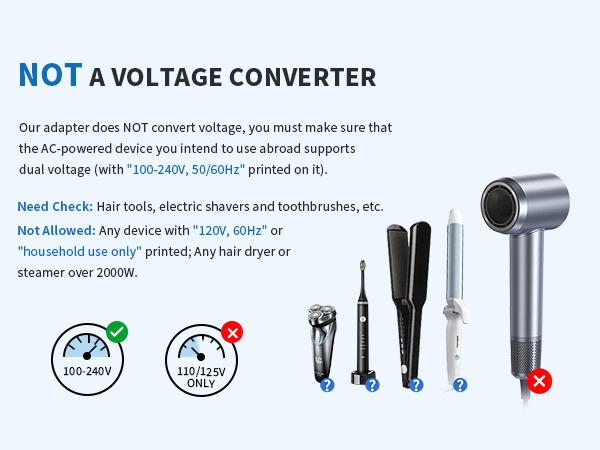 Safety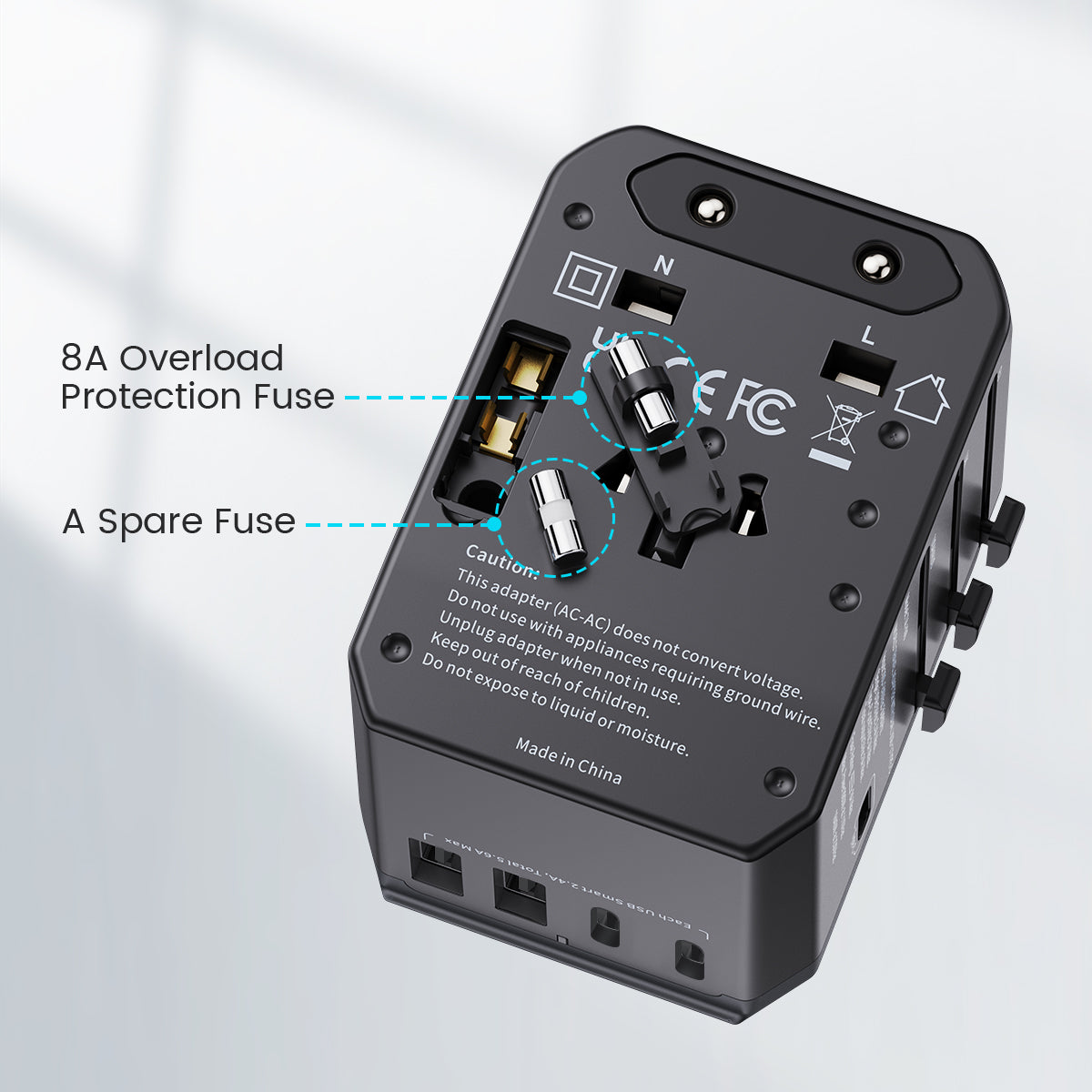 2PCS*8A Overload Fuse
It will burn out to prevent further damage to the device at critical moments. However, the USB ports can still function normally even with blown fuses.
Safety Shutter
This design prevents accidental insertion of foreign objects and only opens when pressed simultaneously by the plug prongs.
Plug Lock System
This design allows only one plug to be inserted into the socket at a time, with the plug locking the other plugs. This prevents the plugs from retracting during use. When using another plug, simply hold down the plug lock and retract the plug.
TA-105C International Travel Adapter