G321 Type G Travel Adapter
---
6 In 1 Type C Travel adapter: G321 features 3 AC outlets, 2 USB-A & 1 USB-C charging ports. It can plug into 50+ countries and regions such as the UK, Ireland, Dubai, Hong Kong, Malaysia, Singapore, etc.
3 Standard US AC Socket: Accept US plug from countries such as Canada, Mexico, Japan, etc.
Safety & Security: This UK power adapter is ideal for travelers, overseas business, work, and students. It does not have surge protection and can be conveniently used on a cruise ship as well. Built-in 13A fuse, safety doors, RoHS, CE, and FCC certifications, and our 2-year limited warranty provide extra peace of mind.
Note:
Our adapter does NOT convert voltage (US/Canada voltage is 110-120V and most other countries are 220-230V), you must make sure that the AC-powered device you intend to use abroad supports dual voltage (most laptops and wall chargers do, and the input spec reads "100-240V, 50/60Hz" on your device).
AC Input: 100-240V~, 50-60Hz
AC Output: 100-240V~, 13A Max
USB-C Output: 5V⎓ 3A
USB-A Output: 5V⎓ 2.4A
Total DC Output: 5V⎓ 3.4A, 17W
Max Power: 1300W at 100V~, 3120W at 240V~
Packing List:
1* G321 Travel Adapter
1* Carry Bag
1* User Manual
2* Spare 13A Fuses in A Pouch
Shipping, Returns & Warranty

Shipment
All orders are processed within 1-2 business days. For free shipping, by default, we use USPS First Class, Priority, or UPS ground, depending on package weight and destination. Once shipped, it normally takes 1-5 business days to deliver. If expedited shipping service is needed, please contact us to see our options.

Returns & Refund Policy
30-day hassle-free return, 90-day free exchange.

Warranty
2-year limited warranty

For more details about our shipping, return and warranty info, please click here.
https://www.epickatech.com/pages/support
Plug Format
Type C, E, F, H, J, K, L, N, O
NOT A VOLTAGE CONVERTER
Our adapter does NOT convert voltage, you must make sure
that the AC-powered device you intend to use abroad supports
dual voltage (with "100-240V, 50/60Hz" printed on it).
Need Check: Hair tools, electric shavers and toothbrushes, etc.
Not Allowed: Any device with "120V,60Hz" or "household use only"
printed; Any hair dryer or steamer over 2000W.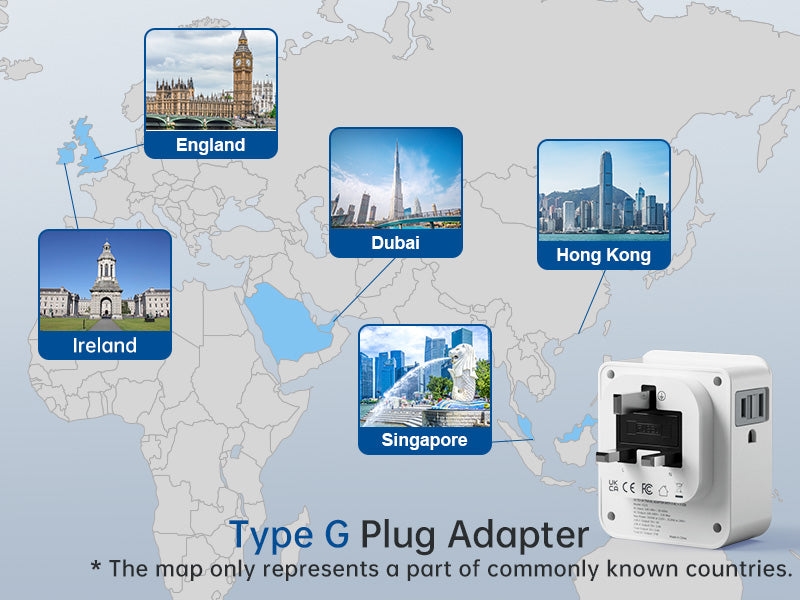 Works in 50+ Countries & Regions
Type G Plug Adapter
Abu Dhabi, Bahrain, Bangladesh, Belize, Bhutan, Brunei, Cambodia, Cyprus, Dubai, Dominica, England, Ethiopia, Falkland Islands, Gambia, Ghana, Gibraltar, Grenada, Guyana, Hong Kong, Ireland, Iraq, Jordan, Kenya, Kuwait, Lebanon, Macau, Malawi, Malaysia, Malta, Maldives, Mauritius, Myanmar, Nigeria, Oman, Qatar, Rwanda, Saint Helena, Saint Lucia, Saudi Arabia, Scotland, Singapore, Seychelles, Somalia, Sri Lanka, Tanzania, Uganda, United Arab Emirates, Wales, Yemen, Zambia, Zimbabwe and more.
This product has no reviews yet.